Defensive Medicine
काठमाडौं-
"I am going to see only people with a normal body as a doctor, and all others will be referred going forward to Singhadurbar"; writes one of the Nepalese doctors on his Facebook post recently. This is a representative example of how frustrated doctors are in Nepal with their safety in workplace. The vandalism of hospitals and beating of doctors by patient parties are becoming more frequent. The vandalism of hospitals and beating of doctors who save lives are, in fact, heinous and horrendous crimes in modern society. The death of patients because of gross negligence of doctors is at the same level of crime, if not higher. Why are doctors, patients, and their relatives becoming more aggressive? Is the trust between doctors and patients weakening? What will happen to the quality of clinical care if these dilemmas of clinical care and compensation continue?
The council of ministers has directed the Ministry of Health (MoH) to pass legal guidelines, stating that doctors will be held responsible for negligence, and will subsequently be required to pay heavy fines from their own pocket. In response to this drastic legislation, the Nepal Medical Association (NMA) has called a bandh, encouraging its members to withhold all but emergency medical services since 21st September 2017. "Do not back off NMA, I am with you," says another doctor on his Facebook post. In spite of constant and continuous dialogue between NMA and the MoH, the deadlock continued for 8 days and resolved after signing an agreement with ministry of health . "I want to quit medicine and start my own business," says another young dedicated doctor.
Doctors all over Nepal are now hesitant to take any risks by managing complicated cases on their own, thus leading to many unnecessary referrals to higher centers. This is what they call "defensive medicine." Many hospitals are not managing serious cases because of the fear of repercussions if anything goes wrong. They are putting their safety first and being defensive, especially in those areas where they are practicing in small groups without much supervision and guidance. This will lead to a significant increase in the number of cases burdening the public health care system, thereby further decreasing quality and increasing the cost of clinical care. Patients will be directly affected if this continues. The patients from the most vulnerable and marginalized population will be the ones most dramatically affected, given that they do not have any alternative, and cannot afford to pay high out of pocket expenditures to go to private clinics. Health care will not be equitable and affordable to all, by any means.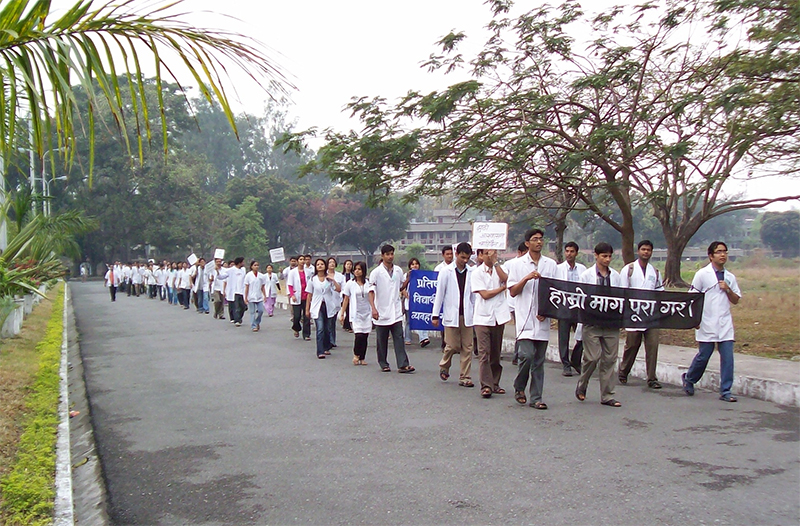 Why doctors wearing white coat are protesting? State must find answer for.
---
In the USA in 2016, there were 251,454 deaths reported because of medical errors. Of those deaths, over 180,000 were patients who received Medicare (state-provided public insurance for poor patients), thereby documenting a disproportionate effect on the poorer populations. These figures indicate extreme measures for patient safety need to be taken while providing clinical care. There are many medical errors which go unobserved, undocumented and under-investigated. Therefore, the number could be even higher. In Nepal, there is no proper study which validates the total number of deaths due to medical errors. There was a claim of gross negligence by a patient of removing one kidney at Manmohan Memorial Hospital, which was later found to be a life-saving measure after thorough investigation by a team of experts. This indicates that hooliganism does not necessarily mean there is medical error. It may in-fact create an unsafe environment and encourage defensive medicine. Medical errors deserve comprehensive evaluation so that health workers learn from these situations and improve their systems, such that these errors will not be repeated. It is only possible if the government, all the doctors and patients come together to work in collaboration to try to reduce the errors.
There are many steps to make patients recover fully when they suffer from illnesses. The decision to visit a hospital, clinical evaluation by doctors, laboratory, radiological investigation, prescription of drugs, and timely follow up are all different stages of the healthcare delivery pathway, and errors can occur at each stage. There has to be quality control in each and every step to ensure patients get high quality care. The consultation by doctors is just one of many steps. What happens if drugs prescribed by doctors are of low quality? Patients will not get good care and their disease will progress. Who should be responsible if patients die from one of the weaknesses in the health care system? Drugs may have side effects which can range from mild to severe fatal anaphylactic reactions. Management can have complications which cannot be predicted many of the times. Having said that, just because the end outcome is not a positive one does not mean that the doctor made a mistake or negligence. Healthcare delivery is a complex system, and to assume all poor outcomes are due solely to the doctor is an inaccurate understanding of healthcare systems.
If doctors in Nepal are going to practice defensive medicine, quality of care will decrease, wait-times will increase, and the cost of health care will be extra-ordinarily expensive. Therefore, all the stakeholders in health care system must focus on developing an ecosystem to investigate medical errors in a systematic ways so as to improve the quality of medical care for patients and ensure a safe environment for each and every health care worker to practice their clinical knowledge and skills in the best possible way. The government should focus on creating an environment where doctors, nurses, paramedics, and health policy-makers are able to improve health care for the safety of their patients and continuously improve the quality. Each and every effort must direct to promote high quality evidence based medicine and discourage defensive medicine.